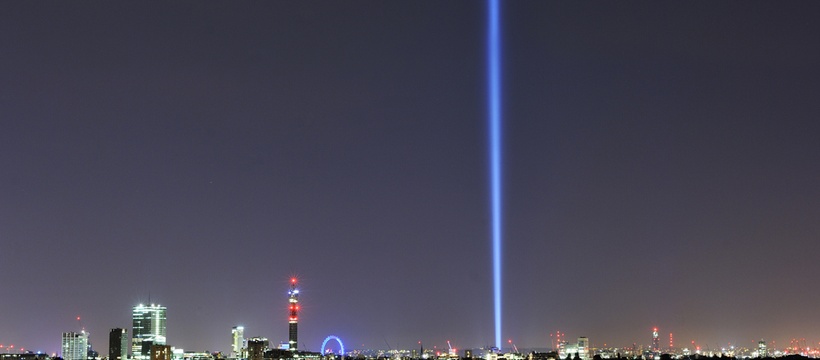 Gallery
Ryoji Ikeda's spectra
05.08.14
We are very excited we can now announce Ryoji Ikeda's spectra (pictured) as part of LIGHTS OUT. A column of monumental light emanating from forty-nine static high-powered searchlights, it is visible across London by simply looking up to the sky.
We have spent the year working towards LIGHTS OUT, 10pm – 11pm 4 August 2014, the culmination of 14-18 NOW's first season, as both Marketing Consultants on 14-18 NOW and as the dedicated marketing team for LIGHTS OUT. You can view spectra from dusk to dawn until 11 August or visit it at Victoria Tower Gardens, London SW1P 3JA.
During LIGHTS OUT the UK-wide event trended on Twitter as hundreds of landmarks, buildings, organisations and more than three million households, according to National Grid estimates, turned their lights out, leaving on a single light to mark the moment the UK entered the First World War.
As well as a commissioned time-limited Jeremy Deller app there were also special LIGHTS OUT artist commissions across the four nations – by Nalini Malini in Scotland, Bedwr Williams in Wales, Bob and Roberta Smith in Northern Ireland (and Ryoji Ikeda spectra in England).
Have a look at our LIGHTS OUT storify here.
spectra is produced and presented by Artangel and co-commissioned by the Mayor of London and 14-18 NOW.