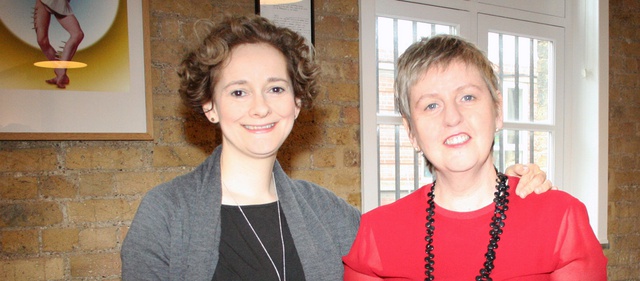 Cathy and Janice, our two Directors, share their memories of the past eighteen years, plus their inspirations and highlights, in this Q&A.
What inspired you to found The Cogency?
Cathy: The idea to start The Cogency was sparked by a surprisingly short conversation with Michael Smith. I was working at Serious, the live music producers, at the time, and Michael was our main designer so we'd been working together for about 5 years. At the end of one of our infrequent face-to-face meetings (we did most things over the phone or by fax), Michael said: 'I think we should set up a company together' and it just felt right. We thought there was a need for a company that was confident working across the whole cultural sector – all genres of music and contemporary arts – and we thought it could be us. We set the company up and invited Janice to join us from Greenwich and Docklands Festival and happily, our hunch paid off.
What's been a highlight of the past eighteen years?
Cathy: That has to be the partnership with Janice – she is a daily inspiration.
Janice: There have been so many it's hard to choose...! Certainly walking into the courtyard at Somerset House to see the giant screen for the first time at Film4 Summer Screen was a proud moment, as we worked closely with the team there and at Film4 to establish the event. Last year's We're here because we're here by Jeremy Deller and Rufus Norris was obviously a highlight. Standing in Waterloo Station seeing the first soldiers appear was a spine-tingling moment. All the months of planning and secrecy had been worthwhile. But there have been so many special moments over the years – too many fantastic Barbican concerts to mention, inspiring events at Greenwich Dance who we worked with for many years, seeing them bring dance into the community, or our work with Clean Break whose work is always thought-provoking with real impact.
What's your favourite thing about your job?
Cathy: Probably the work and artists that I get to experience because of the job – some of whom I probably won't have come across. Plus, running and nurturing a small company is a very rewarding experience – although until we decided to set up The Cogency, it wasn't ever something I saw myself doing. Being a project-based company means that we get to have a lot of new beginnings and endings – so even projects that we've worked on for more than ten years, like SKATE at Somerset House, feel fresh each year.
Janice: The variety. No two days are the same and it certainly doesn't feel like I've been doing the same thing for 18 years. Plus the fantastic team we have here – it's a pleasure to work with everyone.
Describe the office culture of The Cogency in three words.
Cathy: Collaborative, creative, organised.
Janice: Relaxed, friendly, hard-working.
What's the best thing you've seen in London recently?
Cathy: Tough to pick just one, but The Infinite Mix – the Hayward Gallery's off-site collaboration with the Vinyl Factory at 180 The Strand – is still a stand out for me. The combination of the space and the work was exhilarating.
Janice: I saw Maliphantworks, a selection of new and early works by Russell Maliphant, performed by Russell and the original dancers at our new client venue The Print Room in Notting Hill. In the next few weeks, I'm looking forward to seeing Cardboard Citizen's play cycle Home Truths at Southwark Playhouse and Sarah Turner's film Public House about my local pub The Ivy House, which was saved from developers by the community.
How do you see your role at The Cogency?
Janice: As Directors, our role is a combination of delivering strategy and campaigns for our clients and projects, alongside managing the company. I lead on the human resources and office management side of the business, whilst Cathy focuses on finance.
What's your favourite object in The Cogency office?
Cathy: It changes, but at the moment it's the two We're here because we're here artworks.
Janice: The Chris Nash limited edition photographic print of the dancer Michael Clark in O. I love Michael's work and Chris is a fantastic photographer who has captured so many of the dancers of the past 30 years. That and our Nespresso machine!
What inspires your work?
Cathy: The talents of the people that we work with – be it our clients, our own team or the external partners we work with like designers, film makers, and developers. But it starts with the insight of the producers and/or artists involved in a project – to understand what they're trying to do with a project. And then figuring out how best to connect with the potential audiences.
Janice: A passion and love of the arts.