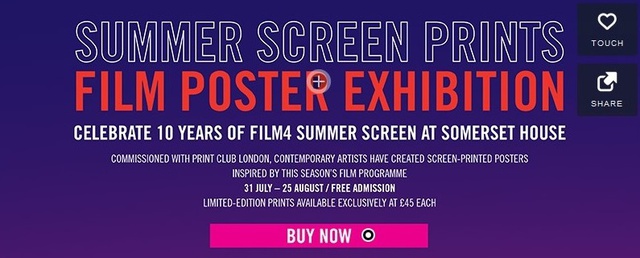 Launched last week, Summer Screen Prints: Film Poster Exhibiton at Somerset House is your chance to buy limited-edition prints inspired by each film shown at Film4 Summer Screen.
Back for a second year, Film4 Summer Screen at Somerset House has commissioned Dalston based studios, Print Club London to curate a series of contemporary screen-printed film posters to celebrate the 10 year anniversary season. The exhibition features the great and good of the illustrative world including Rose Blake, Hattie Stewart, Kate Moross, Steve Wilson, Kate Gibb and HelloVon.
Once again, we have been working with Organic Marketing to develop an interactive poster to showcase each print up close via Somerset House's Facebook page before making a purchase. This year, the tab also features a social aggregator which is pulling in all relevant content to both the event and exhibition with options to filter accordingly.
Each film poster is limited-edition and exclusively available to buy for £45 from the exhibition at Somerset House. Click here to explore this year's prints.