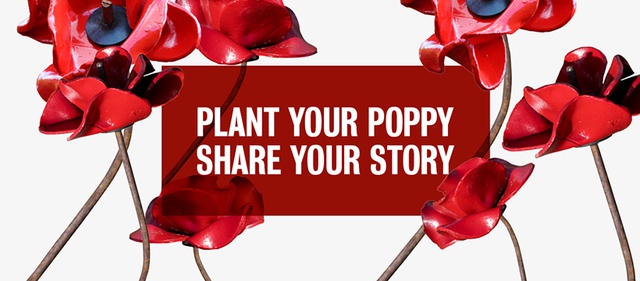 In September, we launched a global campaign for 14-18 NOW to digitally reunite the 888,246 ceramic poppies from the installation Blood Swept Lands and Seas of Red by artist Paul Cummins and designer Tom Piper, staged at the Tower of London in 2014.
34,496 poppies have since been added to the interactive map where owners can plant their poppy and share their story.
The Idea
We were aware of a large number of poppy owners posting about their poppies via social channels. This project was the ideal way to crowdsource these and create an invaluable archive for future generations.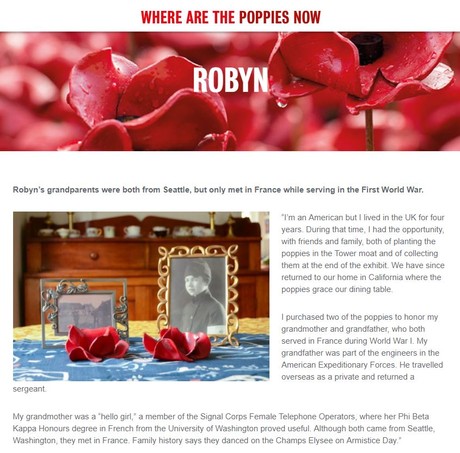 The Interactive Map
The website WhereAreThePoppiesNow.org.uk uses the Google API to create an interactive experience for both poppy owners and those who wish to read the stories around the world. The site was built to host tens of thousands of pieces of user-generated content on a map of the world and we chose to create a 'mobile first' design so that owners could easily take a photo of their poppy and plant it straight away.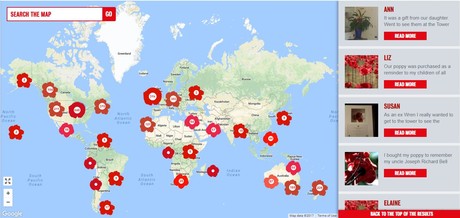 PR Campaign
We worked with Bolton & Quinn and Hot Cherry to launch the campaign. The launch generated 326 pieces of coverage, including TV, radio, print and online articles.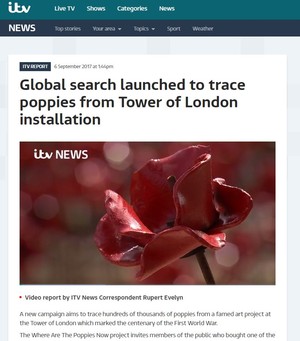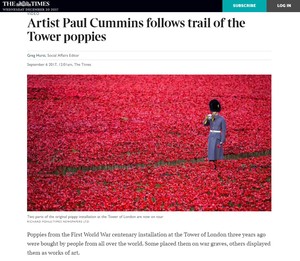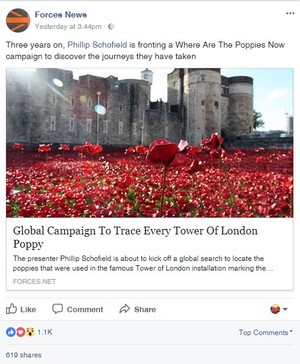 Influencer Outreach
Phillip Schofield helped to launch the campaign by planting his poppy on the map. Other influencers included Steph and Dom (of Gogglebox fame) and Anne Diamond, who created promotional videos and posted content on their social media channels.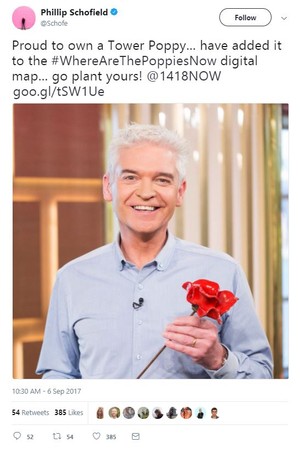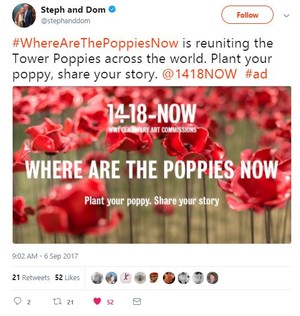 Identifying Poppy Owners
We used our social media monitoring tools to locate those who had purchased poppies in 2014 and identified key influencers to approach from this group. This allowed us to develop relationships with around 50 poppy owners in secret before the project launched.
They were part of our user-testing group and also became ambassadors for the project by planting their poppies on the morning of the launch.
Poppies Tour
14-18 NOW is bringing the two sculptures Wave and Weeping Window to audiences across the UK as part of the Poppies Tour. The website highlights the tour in the interactive map which has increased the reach and awareness of past, current and upcoming locations.
The results so far
34,496 poppies planted on the map so far.

Poppies have been planted on six continents, with the furthest current poppy pin in Dunedin, New Zealand.

The site generated a 146% increase in traffic to the 14-18 NOW website, so visitors were able to find out about the rest of the 14-18 NOW programme.

Twitter influencers included: Phillip Schofield, DCMS, Historic England, HRP, Sir Jeremy Heywood, Commonwealth War Graves Commission and a number of Poppies Tour partners.

A Facebook post on ITV News' channel generated 2.8m views which led to over 3k poppy pins on the map.