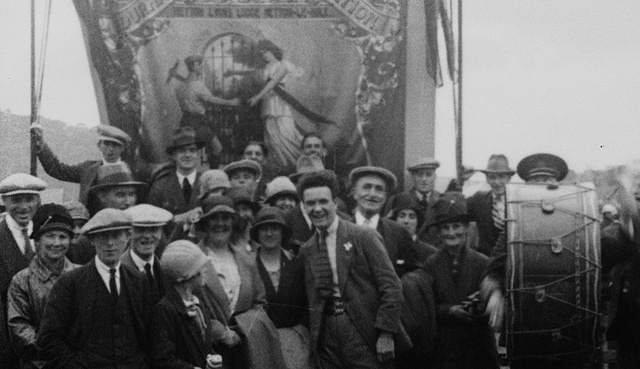 5 Stars '…a work as unclassifiable as it is unforgettable.' The Observer
We recently finished working with Forma on The Miners' Hymns.
Timed to coincide with the 30th anniversary of the Miners' Strike, it is a tribute to the miners of the North East. Two non-British artists collaborated on the project: American Bill Morrison and Icelandic Jóhann Jóhannsson. Bill Morrison's trademark of working with decaying and archive footage was a perfect fit as he was given access to over 100 years of rarely seen archives depicting the mining communities of the North East at work and play. The resulting silent film was scored by Jóhannsson using laptop, string quartet and brass band.
Both artists, despite coming from different cultures, found their own personal cultural parallels – the union movement in the US has gone through its own (and possibly more final) culling process, and Iceland has its own working class brass band tradition (which Jóhannsson has written for before).
This was a rare outing to see it in all its glory with live accompaniment, touring to Sage Gateshead and Barbican, as well as a performance at Easington Social Welfare Centre, once the social heart of the town's mining community.
More than just bombast it lived up to its description as a tribute and homage to the mining communities of the North East, by all accounts at its other performances, but even in London, not its natural heartland. It is a scarce example of a project that genuinely speaks to many different audiences (and classes/ages) on an equal footing.
You can hear the artists, and David Metcalfe, artistic director at Forma, talk about the project on the Barbican podcast, and catch a glimpse of the film from the trailer (or if you are so inclined buy the DVD version of the project).