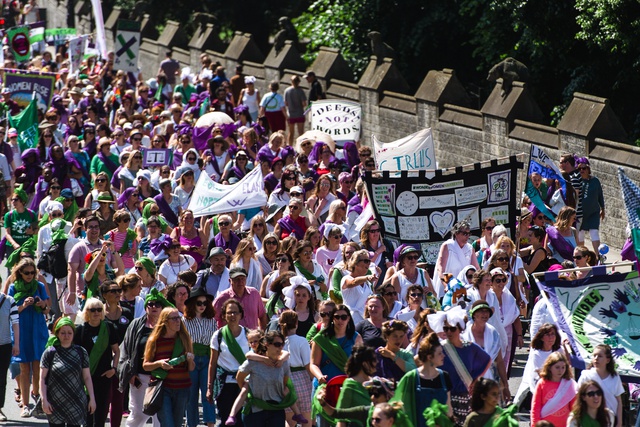 On 10 June 2018, we were at PROCESSIONS, as part of our work for 14-18 NOW. This UK-wide, mass participatory artwork celebrating 100 years of votes for women saw tens of thousands of women take to the streets in Belfast, Cardiff, Edinburgh and London.
On the day of the event we worked closely with producers Artichoke to commission and create content for the 14-18 NOW digital and social channels, capturing footage from all four cities, as well as interviewing members of the public for their reactions.
Video Content
We produced three short films which were released on the day, to complement the BBC live coverage and to give those who weren't there a flavour of the atmosphere. Working with BBC 1Xtra DJ Jamz Supernova and other ambassadors, the films showed the march setting off in all four cities, the experience of being on the march and a series of reactions to the day, as well as a Facebook Live with Jamz and poet Theresa Lola. Films were also produced post-event showing highlights from the day across all four cities.
Find out more about our work with 14-18 NOW.
Key Results
On Facebook, there were 719k impressions of 14-18 NOW content with over 2.7k user engagements on posts
Video content on Facebook generated 118k views, with 18k views for the Facebook Live video
We worked across the event, liaising with partners and stakeholders to commission creative content and deliver the digital marketing strategy as well as managing 14-18 NOW's social media channels on the day of the event.