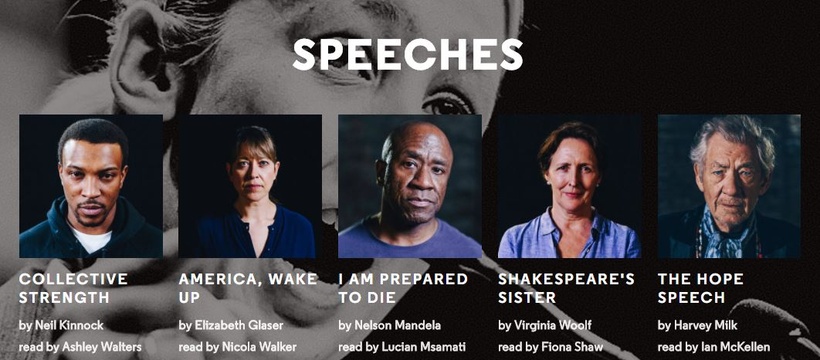 Gallery
Influencer Outreach for the Almeida Theatre's 'Figures of Speech'
11.07.17
We recently worked with the Almeida Theatre on an exciting new digital project, Figures of Speech. The project explores some of history's most important speeches through a series of films read by actors and young leaders. We were tasked with generating awareness of Figures of Speech for those outside of the Almeida's typical target audience.
We delivered a targeted Influencer Outreach campaign, identifying and approaching online communities and influencers who did not fit the traditional 'theatre-goer' demographic. This approach complemented the Almeida's in-house activity. We focused on those who had an interest in one or more of the themes covered by the films.
The Cogency identified and targeted influencers both in the UK and America, resulting in many individuals and organisations becoming vocal advocates for the project, successfully extending its reach and creating positive online conversation.
Influencers included The Royal Society of Literature, Pride in London, Women's March London, National AIDs Trust, Shout Out UK and The Africa Centre. The content created included a Huffington Post contributor article, blog posts, inclusion in email newsletters and social media updates.
In total, over 4k social media posts were generated, and Twitter impressions reached 110 million
"Once you have dialogue, you know you can break down prejudice." #HarveyMilk read by @IanMcKellen #FiguresOfSpeech https://t.co/5m6HGNikgv pic.twitter.com/LbuLXp7fpx

— Pride in London (@LondonLGBTPride) 26 June 2017